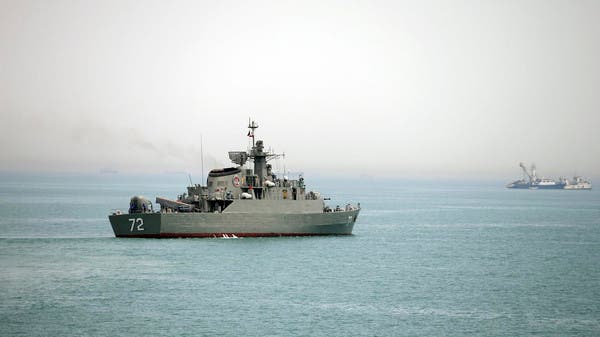 In this picture taken on Tuesday, April 7, 2015, and released by the semi-official Fars News Agency, Iranian warship Alborz, foreground, prepares before leaving Iran's waters, at the Strait of Hormuz. (AP)
 Al Arabiya News
Iran's Revolutionary Guard Corps Navy fired warning shots over Singapore-flagged cargo vessel, the Alpine Eternity, in international waters in the Gulf on Thursday, prompting the cargo vessel to flee into United Arab Emirates' territorial waters, a U.S. official told Reuters, saying the account was based on preliminary information.
The Alpine Eternity – an oil and chemical tanker ship – issued a radio call for help to the UAE and the Iranian boats fired a second wave of warning shots, the officials said.
UAE authorities heard the radio call and deployed coast guard boats in response. The Iranian boats then departed the area, the officials said.
The ship is listed as part of the fleet of Transpetrol, a commercial shipping firm that transports oil and gas, with offices in Belgium, Bermuda, Norway and Switzerland.
A spokesman for the vessel's Norwegian manager said the vessel was attacked at sea at 8 a.m. GMT on Thursday on its way to the UAE port of Fujairah.
"The nature of the attack is still unclear," the spokesman said. "She reached UAE waters and she is in the port of Jebel Ali now. The vessel is safe and there are no injuries to crew."
A US naval ship was about 20 miles (32 kilometers) away from the Alpine Eternity but received no request for assistance, officials said.
The incident reflected rising tensions in the Gulf in recent weeks after Iran seized a Marshall Islands-flagged vessel and warned the United States not to interfere with an Iranian aid ship headed for Yemen. The commercial cargo ship was later released, after Iranian officials said a commercial dispute had been settled.
The Alpine Eternity had last stopped at a port in Bahrain, according to the marinetraffic.com shipping website.
The attack had been reported to Singaporean authorities.
(With Reuters and AFP)