By Lior Ben-Ami
MidEastTruth.com
September 23, 2013
In his interview to "Yediot Aharonot", Israel's most popular daily, (September 2013) Roger Waters not only proved how ignorant he is about both Israel and apartheid; he also expressed a huge amount of hypocrisy, and also, sadly, anti-Semitism.
The facts are known: in South Africa under apartheid, a small white minority controlled and discriminated against a large black majority, based on racism. The Israeli-Palestinian conflict is a national, territorial conflict between two peoples, not a racial one. Security measures cause hardship to the Palestinian population but they are just that, security measures. The Israeli security fence (only small part of it is a wall) was only built after daily terror attacks including suicide bombers directed against Israeli civilians, in family restaurants, buses, cafes, shopping centers. The same goes for checkpoints. Remember the days when we could just board a plane, without going through hours of waiting in security lines, having to remove our shoes and belts? The same applies here. It was only after terror attacks that security measures were put into place.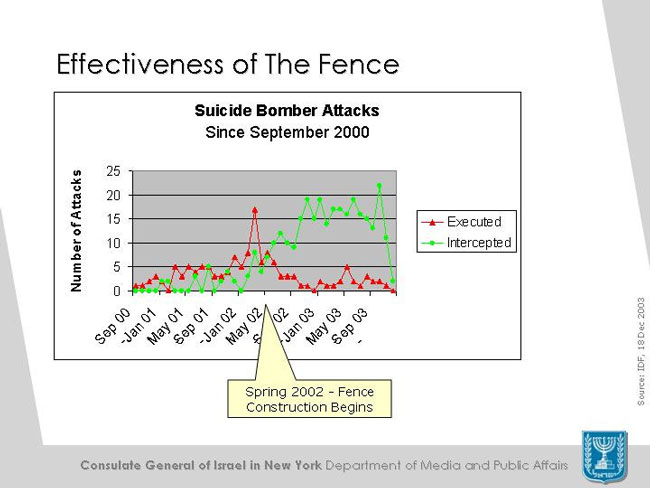 When asked if he assigns any blame for the conflict at all to the Palestinian side, Waters compared the Palestinians to a woman who had been raped – they bear no responsibility whatsoever.
When confronted with the validity of calling Israel an apartheid state, Waters sends the interviewer to the dictionary:
– A policy or system of segregation or discrimination on grounds of race.
But Waters (deliberately?) fails to understand that the Israeli-Palestinian conflict is not about race. Arab citizens of Israel, whatever their religion (Muslim or Christians), enjoy Israel's democracy and are equal in every aspect to their Jewish co-citizens. There are Arab members of the Israeli parliament (the Knesset) and Arab Israelis who serve on the Israeli supreme court (an Arab judge was on the Court which sent Israel's Jewish president Moshe Katzav to prison under rape charges). Arab Israelis represent Israel in sporting and cultural events and take part in every aspect of Israeli society. At the same time, official Palestinian media and schoolbooks call for violence against Jews and describe them as subhumans. While in Israel the extreme right-wing party didn't get enough votes to get into the Knesset, the Palestinian people voted for Hamas – a violent anti-Semitic fundamentalist organization, declared by the US, EU, Canada and Japan as a terrorist organization.
To compare Israel to South Africa's Apartheid – where black people couldn't vote, get elected or even sit on the same benches or bathe in the same beaches as white people – one must be completely ignorant about both Israel and South Africa under apartheid.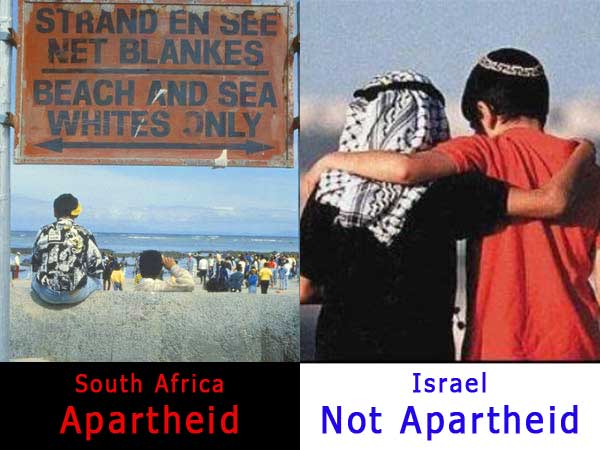 When asked about the Jewish star on the inflatable pig in his shows, Waters declares that "A Jewish star is a symbol of oppression", yet insists that he's not an anti-Semite. Will Waters ever use a Muslim crescent or the symbol of any Muslim organization which murders and persecutes Jews, Christians, women, gays, as an equal-opportunity "symbol of oppression"? Don't count on it.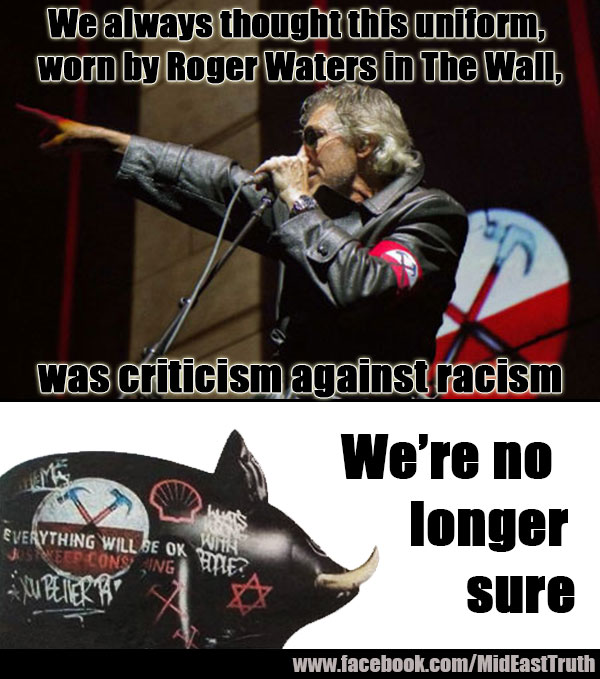 "I support the BDS movement. I'm against violence", says Waters, ignoring the fact that BDS leaders condone violence and oppose negotiations with Israel.
Let's use Waters' system and look at the definition of "anti-Semitism":
– "Hostility toward or discrimination against Jews as a religious, ethnic, or racial group" (Merriam-Webster)
If we look at the Middle East, there is only one country which does not discriminate and persecute people based on their race, religious, sex, sexual preferences. That country is Israel. In Jordan, for example, Jews cannot gain citizenship; in Iran and every other Muslim country, homosexuals are tried and jailed if not hanged; in Saudi Arabia, Jews can't enter the country and Christian churches are illegal; women are treated as inferior throughout the Muslim world and can't study, drive, walk the streets by themselves, remove their head/face gear.
According to every parameter of quality of life (freedom, education, health etc.), Israeli Arabs are better off than their brothers, and definitely their sisters, living in any other Arab or Muslim country in the Middle East.



From the Map of Freedom 2013 – Freedom House
But Waters? He only joined the group that call for Boycott, Divestment and Sanctions against the sole Jewish state in the world. If this is not "hostility toward or discrimination against Jews as a religious, ethnic, or racial group" I don't know what is. So yes, unfortunately, Roger Waters is an anti-Semite. A vocal one too. And I don't use this word lightly, far from it. I disagree with many of the Israeli government's policies and decisions and don't think that criticism of Israel always or often equals anti-Semitism.
Over 90% of the Palestinians live under Palestinian rule – Fatah or Hamas. They have a flag, an anthem, a president, a government, a parliament, international phone and internet country codes (970, .ps), they participate in the Olympic games and other global sports events and sit at the UN. The people of Tibet or the Kurds, for example, could only dream about such a reality – but that hasn't stopped hypocritical Waters from performing in China and Turkey.


President Obama and President Abbas in Ramallah
It seems like Roger Waters not only wrote, "We don't need no education", he also lives by these words. Thought control he receives from from the BDS movement. His ignorance and hypocrisy about Israel, the Palestinians and the Middle East in large is appalling.
* * *
A history lesson
A short history lesson for Mr. Waters: In November 1947, the UN General Assembly voted to divide Palestine into two nation states: a Jewish state and an Arab state. Back then, the word Palestinians referred to both Jews and Arabs who lived in the land. The division was based on population – A Jewish state with a Jewish majority and an Arab state with an Arab majority.
The Jews accepted the international community's vote. The Arabs in Palestine and the Arab countries refused the offer. At the time, the leader of the Arabs in Palestine was Haj Amin al-Husseini, a high ranking Nazi who had top level communications with high ranking Nazis like Himmler, Papen, Goebels and met with Adolf Hitler himself. Al-Husseini called Arabs to kill all Jews in Radio Berlin in 1944, planned with the Nazis to poison Tel Aviv's water system (operation ATLAS) and to build, with the Nazis, a concentration camp for Jews in Palestine. Both Yassir Arafat and today's president Mahmoud Abbas call the Nazi al-Husseini a "Palestinian hero".

In May 1948, 7 Arab countries declared a war of annihilation against the 1 day old Jewish state. The Arab leaders vowed to throw all Jews to the sea. Israel survived and prevailed. At the end of Israel's war of independence, the Gaza Strip was under Egyptian rule and Judea and Samaria (the West Bank) under Jordanian rule. East Jerusalem, including the ancient Jewish quarter, was closed to Jewish worshipers. The planned UN Arab state never came into existence: Egypt and Jordan never thought about giving the Arabs of Gaza and Judea and Samaria independence and the people of Gaza and Judea and Samaria – still self-declared as Arabs – didn't ask for it nor had any such aspirations.
Only years later, in 1964, the Arabs of Gaza and Judea and Samaria started to call themselves Palestinians and the PLO was created. Its declared goal and founding manifesto? To destroy and "liberate" Israel from the Jews ("to attain the objective of liquidating Israel".) Yes, that's 3 years before the 1967 so-called occupation. It is also worth noting that the Palestinians didn't start an intifada against Egypt or Jordan nor did they ask for an autonomy or a state in Gaza and/or Judea and Samaria. The PLO then was a pan-Arab organization used by the Arab league, who appointed the PLO leaders, to fight Israel.
In 1967, after Egypt, Syria and Jordan promised, once again, to wipe out the Jewish state and throw the Jews to the sea, the Six Day War broke out when Israel preemptively struck to protect herself. Some quotes by Arab leaders at the time:
* PLO founder Ahmed Shuqayri: "Whoever survives will stay in Palestine, but in my opinion, no-one will remain alive."
* Syrian president Hafez Assad (Bashar Assad's father): "Strike the enemy's settlements, turn them into dust, pave the Arab roads with the skulls of Jews."
* Egyptian government broadcast: "Every one of the hundred million Arabs has been living for the past nineteen years on one hope – to live to see the day Israel is liquidated"
* Egyptian government broadcast: "It is our chance, Arabs, to direct a blow of death and annihilation to Israel and all its presence in our Holy Land. It is a war for which we are waiting and in which we shall triumph."
* Egyptian president Gamal Abdel Nasser: "We knew that by closing the Gulf of Aqaba it might mean war with Israel. [If war comes] it will be total and the objective will be to destroy Israel."
Israel had a great victory and in only 6 days roughly tripled its size, taking control over Gaza, the West Bank and the Golan Heights. Right after the war, Israel declared that it was willing to give back the land it took over in exchange to peace and normalization. The Arab reply came in the Khartoum Arab summit, know as the famous "3 'No's of Khartoum": no peace with Israel, no negotiations with Israel, no recognition of Israel. Pretty straightforward, right?
After the 1967 6 Day War, and for the first time, the newly named Palestinian people declared their demand to take control over Gaza and the West Bank – as well as the rest of Israel. The PLO under Yasser Arafat started horrific terror attacks against Jews – in Israel and around the world, including attacks against schoolchildren (the Avivim school bus massacre, where 9 children were killed; the Ma'alot school massacre, where 25 were killed, including 22 children, and 68 more were injured.), public buses, the Israeli athletic delegation to the Munich 1972 Olympic games and commercial plane hijackings. Again and again, the Palestinians and their leader, Arafat, declared that their goal was to wipe Israel off the map and kill all Jews in it. As Arafat put it in 1980: "Peace for us means the destruction of Israel. We are preparing for an all-out war, a war which will last for generations."
The PLO was considered to be a terrorist organization by the United States and Israel until the Madrid Conference in 1991. In 1990, the PLO under Yasser Arafat openly supported Saddam Hussein in the Iraqi regime's invasion of Kuwait, leading to a later rupture in Palestinian-Kuwaiti ties and the expulsion of many Palestinians from Kuwait. Within a single week, some 450,000 Palestinians were expelled in Kuwait, resulting in one of the fastest and largest expulsions in modern history. Most of the Palestinians, who had resided in Kuwait as foreign workers and residents, returned to Jordan. Other Arab countries – from the Saudi Arabia to Egypt and Syria, all part of the US led coalition against Iraq – severed ties with Arafat's PLO.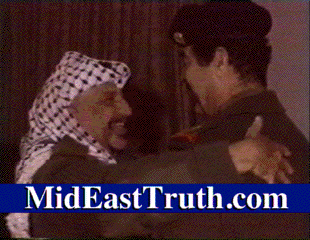 Only in 1993, after losing most of the Arab world's support, the PLO recognized Israel's right to exist and negotiation between Israel and the PLO started. In 1995, under the Oslo accords, Israel withdrew from Jericho and partly from the Gaza Strip. Unfortunately, every time Israel left an area, terrorism became more deadly. In early 1996, when dovish Shimon Peres was Israel's prime minister, after Rabin was assassinated by an extremist right-wing Jew, Palestinian terrorism reached a new peak, with bloody suicide attacks against Israeli citizens, in buses and crowded areas. While Israel did everything possible to minimize civilian casualties and target terrorists only, the Palestinian terrorist organizations did everything to kill as many civilians as possible, using ball bearings, nails, screws, bolts, and other objects that served as shrapnel, to maximize the number of casualties in the explosion.
In 2000, Arafat said "no" to Ehud Barak and Bill Clinton's offer: to get back Gaza, 94% of the West Bank, including control of holy sites in Jerusalem, plus land swaps. It was more than anything the late Yitzhak Rabin – the man Arafat signed the Oslo agreement in 1993 – ever agreed to. Arafat could not bring himself to declare "end of conflict", turned down the offer to get everything the Palestinian people ever said they wanted and started a bloody second intifada against Israel. He didn't even give a counter-offer. In his book, Bill Clinton blamed Arafat for preventing peace and Saudi Prince Bandar bin Sultan said that Arafat's refusal was a "crime" against the Palestinian people.
During the second intifada there were hundreds of terror attacks against Israelis, including dozens of suicide attacks. Over 1100 Israelis were murdered, the vast majority civilians. Only in 2002, after daily deadly attacks against her civilians, Israel started to build the security fence. The facts are on the ground: the fence stopped a lot of terrorist attacks and saved many human lives. Yes, Palestinians face hardship by the security fence/wall. Yes, it's ugly. But it saves human lives – both Israelis and Palestinians.
In summer 2005 Israel withdrew entirely from the Gaza Strip, evacuating all settlements, close to 10,000 civilians, every single IDF soldier and even dead people from their graves. The idea was to let the Palestinians have a chance to rule their lives. There were plans to turn Gaza into an oasis with a beautiful marina at the Mediterranean, with luxurious hotels by Hilton, Moevenpick and others. Had this experiment worked, Israelis would be more willing for the IDF to withdraw from more areas in the West Bank. Unfortunately, once again, it was proven that every time Israel leaves an area, it becomes a terror base. Hamas took over Gaza by force, killing, throwing from rooftops and arresting political opponents of Fatah. Hamas occupied Gaza and rocket fire to Israeli towns increased. While Hamas shot rockets from heavily populated areas, including school rooftops and mosques, and used civilians as human shields, hundreds of thousands of Israelis lived in fear, hearing daily sirens and running to shelters. In 2008, then Israeli Prime Minister Ehud Olmert, offered Palestinian president Mahmoud Abbas (Abu Mazen) an amazing offer: 1967 borders (including some land swaps), all of East Jerusalem and allowing thousands of Palestinian refugees entrance to Israel. Then-Secretary of State Condoleezza Rice wrote subsequently in her book that she was very surprised by Olmert's offer, to which Abbas replied, "I can't tell four million Palestinians that only five thousand of them can go home." Abbas later denied this quote. Abbas also denied a key quote from his interview to Jackson Diehl in the Washington Post, where he said that even after Olmert's offer "the gaps were wide." Both Condoleezza Rice and Jackson Diehl from the Washington Post stand by their words.
Israel can't and won't offer more than what Olmert offered to Abbas in 2008. Anything more would be national suicide. Unfortunately, as always since the 30s (the Peel Commission), the Arabs in Palestine turn down every offer to have an independent state. As Hillary Clinton said recently: "I think Israelis have good grounds to be suspicious. And I would never be one who tries to rewrite or dismiss history. The Palestinians could have had a state as old as I am if they had made the right decision in 1947. They could have had a state if they had worked with my husband and then-Prime Minister Barak at Camp David. They could have had a state if they'd worked with Prime Minister Olmert and Foreign Minister Livni. . . . But the fact was it was a 10-month settlement freeze. And he [Netanyahu] was good to his word. And we couldn't get the Palestinians into the conversation until the tenth month."
And after all of the above, for Waters, Israel is the rapist and the Palestinians have no responsibility whatsoever.
Israel proved that it is willing to give up territory for a sincere peace. For peace with Egypt, Israel evacuated settlements and gave up the entire Sinai peninsula – 2/3 of Israel's size at the time – because the late Egyptian president, Anwar Sadat, was a true man of peace. The same happened with Jordan – the late King Hussein was sincere in his wish for peace.
If only a Palestinian leader would be serious and sincere about peace, he would find a real, honest partner in Israel and huge support from the Israeli people. Putting all the blame on Israel alone is both hypocritical and counter-productive.
_________________